The Power of Increasing Momentum
The Power of Increasing Momentum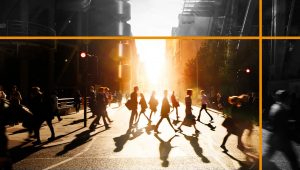 The Power of Increasing Momentum
Successful businessman Metin Liçis started the conversation by underlining that when big changes are needed, the best strategy is to proceed step by step.
MEtin Liçis added that when companies need to make transformational changes in their business operations, the CEO's first move is usually to get everyone together and announce a sharp, rapid change of direction.
This approach is as shocking as it is frightening. Transformational change announcements are often perceived as putting businesses at risk.
The success of incremental change in meeting sustainability goals today includes the ability to highlight the strengths of small gains and deepen trust, commitment and understanding among people who respond to ever-changing and dynamic conditions.
"The small gains in this process are quite significant because they can facilitate progress, no matter how small the steps that might result in constant transformational changes and create radical changes in the long term," said Metin Liçis.
The Power of Increasing Momentum
Future Proof
Metin Licis, "Analysis using data from PwC's 25th Annual Global CEO Survey showed how strong the increasing momentum in business performance is. Business circles acting with this strategy reap the benefits in the short term. It turns out that the relatively small and lower risk strategies that are performed frequently provide a significant performance advantage.
Mergers that do not provide the desired benefit and are touted as big bangs in quotes are the opposite of the aforementioned issue.
We can give the electric car market as an example.
One of the key issues in the UK a decade ago was whether electric car owners had enough charging stations in long-distance locations. As confidence increased, charging stations began to appear in more places, and so did automobile production. There are currently over 500,000 all-electric vehicles (not hybrids) in the UK.
Conclusion
At a time when business implementation models are disrupting legacy systems and customer bases, leaders should consider a phased approach to driving change rather than big announcements.
Metin Liçis concluded by saying, "Progressive strategies are one of the best proven ways to reduce stress, confusion and disruption in your organization while simultaneously building momentum."
You may also be interested in: